Module for Beginners
The Trading Calendar
Translate the power of knowledge into action. Open Free* Demat Account
Earnings season is one of the most anticipated points during the financial year for the market. It refers to the months when quarterly reports are released—generally in January, April, July, and October. And with the hype of the season comes a slew of analyst expectations, forecasts, and results that beat or miss those expert analyses.
Companies, Date and Time
First, you need to know which companies are releasing results during a particular day and what time. Companies usually release their results before, during, and after the market opens.
To become a successful trader during this time, you must know this so that you can place your trades accordingly.
What Earnings Season Means for Investors?
This is a very active time in the market as participants review the earnings reports, which may affect their positions on or in a company. You can often see a lot of movement in the shares of companies releasing reports as the market reacts to the new data. There is extensive media coverage of the major earnings releases from a general recap of the earnings to report on whether the companies missed, met, or beat analyst expectations.
Some traders look forward to the earnings season, as it can be a period where they can confirm the positions they place. Shorting a stock before earnings and watching the price drop can be beneficial, as the psychological drop will usually trigger a sell-off. Conversely, a ramping up in production or revenue could result in a swift upward trajectory or stock price. Other investors sit out the season entirely, as there are too many "human" factors at play.
Learning & Earning is now super simple
₹ 0 Equity Delivery
No Hidden Charges
₹ 20 Per Order For Intraday
FAQ,Currencies & Commodities
ZERO Brokerage*
on ALL Segments
FREE Margin
Trade Funding
Trading during Earnings Season:
We have an in-depth guide on how to trade earnings season, but the important things to remember are:
1) Know the 'expected' results
Being cognizant of what is 'expected' with regards to the revenue/sales and earnings per share (EPS) figures are important because a company's share price reaction can often be determined by the amount by which they beat/miss an aggregate of analysts' expectations.
2) Stay alert to surprise announcements
Any surprise announcements that coincide with an earnings report can also impact the share price of a company. These may include stock buybacks/share repurchase programs as well as company guidance.
3) Consider volatility over the bearing of an expected move
Working out the 'expected move' on a directional basis for a stock in reaction to the binary earnings event can be a fraught endeavor. Alternatively, a view taken with volatility in mind instead can prepare investors for significant movement without positioning on the wrong side of the eventual outcome.
Wrapping Up
Now that you understand the nitty gritties Trading During Earnings Season, it's only logical that we move on to the next big topic - What to do on weekends as an investor ?To discover the answer, head to the next chapter.
A quick recap
Publicly traded companies typically report earnings four times a year, on a quarterly basis.
These quarterly reports are highly anticipated and can cause investors to bid up the stock's price or else pummel it down depending on how the numbers shape up.
Analysts' consensus forecasts and a company's own guidance estimates are used to establish a benchmark with which to evaluate actual earnings results.
Investors should know what to expect, but also engage in their own analysis to find opportunities around earnings season.
Test Your Knowledge
Take the quiz for this chapter & mark it complete.
How would you rate this chapter?
Comments (2)
Add Comment
Get Information Mindfulness!
Catch-up With Market
News in 60 Seconds.
---
The perfect starter to begin and stay tuned with your learning journey anytime and anywhere.
Visit Website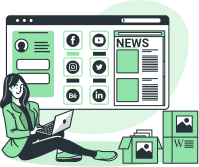 Get Information Mindfulness!
Catch-up With Market
News in 60 Seconds.
---
The perfect starter to begin and stay tuned with your learning journey anytime and anywhere.